Find Reactive Printing Home Bedding Sets in Daphne
2022-12-19 14:09
Now there are more and more kinds of bedding, we are more and more exquisite in the purchase, in addition to fabric material, dyeing has become an important indicator of the pros and cons, because it not only affects the pattern and color, but concerns our health. At present, the common printing and dyeing processes in the market are reactive printing, pigment printing and semi-reactive printing.
Reactive printing is an advanced process; it dyes the fibre right through reactive inks so after dyeing the Home Bedding Set fabric color is bright. In addition, fabric finished with reactive printing touches very soft and has a very good color fastness.
Dyes with reactive genes combine with the fabric fibre. Reactive dyes replace banned dyes and cellulose dyes, so it is more eco-friendly and healthy.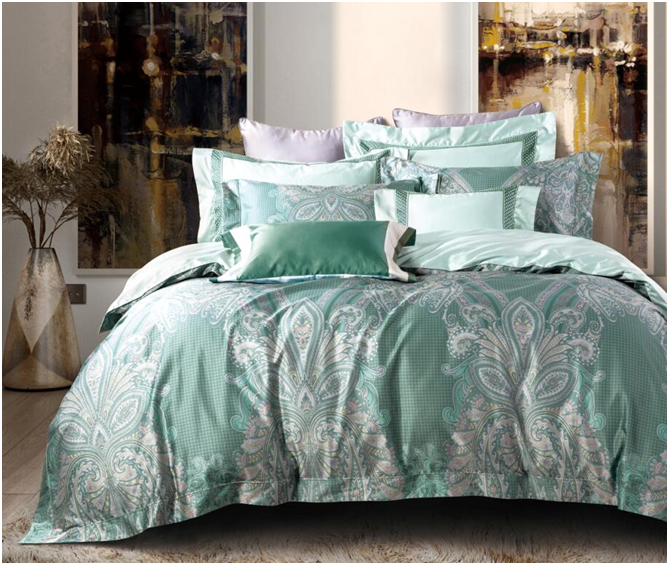 Pigment printing process is simple, low cost and mature. After pigment printing, the patterns of Home Bedding Set are clear, but easy to fade, not environmental friendly and has a tough hand feel. Some inferior pigment inks are poisonous and smelly which is not good for health.
Pigment inks combine with binder and catalyst, then painted on the textile. Pigment printing is a physical method; the pigment inks itself will not react with the fabric fibre.
Semi-reactive printing, also known as imitative reactive printing, is a printing method between reactive printing and pigment printing. It is close to reactive printing in quality, does not contain harmful substances to the human body, not easy to fade, the hand feel of the fabric is also better, the cost is lower than reactive printing. But semi-reactive printing is mainly through the improvement of printing and dyeing agents to improve the hand feel and color fastness, so essentially semi-reactive printing is still pigment printing.
How do we identify what printing process is used on Home Textile?
1. Watching: Using Pigment printing, the color of Bedding Set is not bright, and the fabric will have a kind of shiny feeling which will disappear after washing.
2. Touching: Comparing the difference between the printed parts and unprinted parts. The printing area of Pigment printing is hard and sticky. But the printing area of Reactive printing touch soft and there is no significant hardness change between the printed parts and unprinted parts.
3. Smelling: there are many binders in pigment printing, so the smell is a little bit stronger.
Bedding set is not only a simple sleep tool, also a beautiful scenery line in the bedroom. And the printing process is related to the color and safety of the bedding, which cannot be ignored.
Daphne provides print bedding set made of different materials which mainly include cotton, lyocell, and polyester for high-qualiy bedding comforter.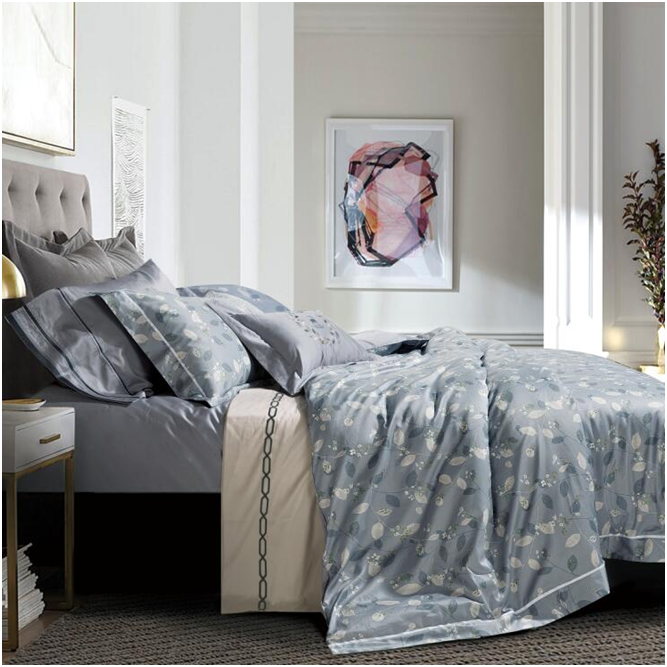 Our bedding comforters are made of premium fabrics which make them feel smooth, giving people a good touch feeling. We adopt a unique quilt design. There are multi-layer stitches sewed on both sides of the product to make it be resistant to crack. The products are also easy to clean and care. The durable bed duvet cover is lightweight and won't get stiff after frequent washing. They are also machine washable, which can save a lot of labor. Adopting high-end fabrics and microfibers, the products have a long-lasting softness and offers ultimate relaxation for users at day and night. Both sides of the products have been thoroughly treated for ensuring extreme good hand feeling. Besides, pet hair or other foreign materials won't cling to the products. They are guaranteed to cause no allergies or harm to people. They have the competitive advantages of long-lasting performance of shrinking and wrinkling resistance.
At Daphne, we can design zipper on the products which are easy to zip and unzip and durable ties in each corner to keep duvet from sliding around. By using our print bedding set, customers can get a relaxing and comfortable sleep every night.
Daphne provides high-quality reactive printing Home Bedding Sets. Our printed bedding sets are printed through reactive printing process, offering you beautiful products with bright color, soft hand feel, good color fastness, durability. Daphne has its own Printing & Dyeing factory, founded in 2001 in Foshan, covers an area of 100,000 square meters. It is a professional printing and dyeing factory specializes in the development of technology, the printing and dyeing of fabric. The Printing & Dyeing factory has introduced advanced foreign equipment and computerized the whole production process.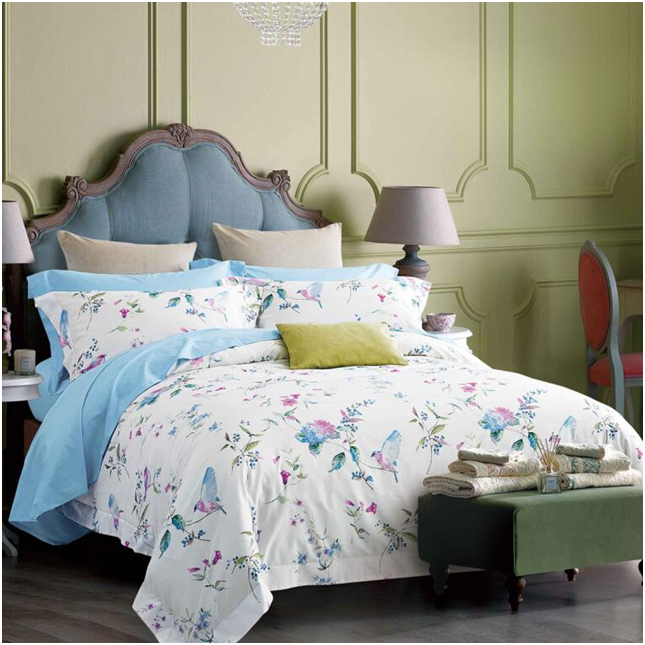 Daphne recognizes the importance of protecting and preserving the environment. We are committed to providing quality products and services in a manner that ensures a safe and healthy workplace for our employees and minimizes our potential impact on the environment.
Our own Printing & Dyeing Factory produces fabrics under the environmental-friendly production procedure. The Azo Dyes is forbidden in the production and the Formaldehyde content is moderate in the testing. Thus, the fabrics are sold throughout the USA, Japan, Singapore, Southeast Asia, etc.
Get the latest price? We'll respond as soon as possible(within 12 hours)